Put Your Foot Down Walk Townsville 2018
When: 10:00 am, Sunday, August 12, 2018
Meet, Start and finish point: Rockpool Headlands
Parking: Carpark at Rockpool Headlands and street parking is available
Registration: Adults - $25 /Children $5 (under 5 free), Family $60 (2 adults and 3 children up to age 16)
Offline registration: Available onsite from 09.00 am
Raised so far
$0.00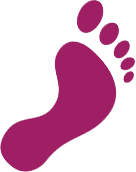 $0.00
How can I Participate?
To participate you need to register.
When you register you will be able to join the walk.

By registering you will automatically get an individual fundraising page. This allows you to fundraise if you want to.

When you register you will also be able to join an existing team, but you don't have to.
Note: Obviously you can't join a team unless it has already been set up when you register. So it's ideal, but not essential, as you can join later, that a Team Leader creates the team before team members start registering.
How to Create a Team?
Team leader, click the Create a Team button above to create and name your Team's Fundraising page.
Now that you have set up and named your Team Fundraising page, all your team members can register and join the Team, and start fundraising! You will receive a confirmation email and a link to forward to the team so they can register. Make sure you share the team name!
Make sure your team "purples up" on the day. There are amazing prizes to be won for fundraising and best dressed teams.
How to Register?
Click on the Register for Walk button above.
Registering means you will be able to join the walk. You can register as an adult, Family (2 adults and 3 children), and extra children can be added. You will be sent a receipt via email.
Fundraising
When adults register (including families), you are automatically given an individual fundraising page. Having a fundraising page, allows family and friends to sponsor you. After registering, you will receive an email with a link to your fundraising page. Simply send this on to family and friends.
How to Join a Team if you've already registered
If you have already registered and, at the time selected to be an "Individual fundraiser" and you would now like to join an existing Team please visit the link below for all the details on how to join a Team; https://support.gofundraise.com/hc/en-us/articles/201281920
Please join us and help make this a memorable event. On the day prizes will be awarded for the highest individual and team fundraisers, and the most creatively dressed in purple children, adults and dogs!
Top Individuals


(individuals)


| | | |
| --- | --- | --- |
| | Pancreatic Cancer Facts | |
| | | |
| | Only 8% of Pancreatic Cancer patients survive beyond 5 years. | |
| | | |
| | Median survival rate is between 3 and 6 months | |
| | | |
| | Each year more than 3,000 Australians are diagnosed and most are defeated by it. | |
| | | |
| | It has one of the worst survival rates out of all cancers. | |
| | | |